Manchester United 2, Manchester City 1
Late goals by Bruno Fernandes and Marcus Rashford saw Manchester United win the Manchester derby in a thrilling last half hour.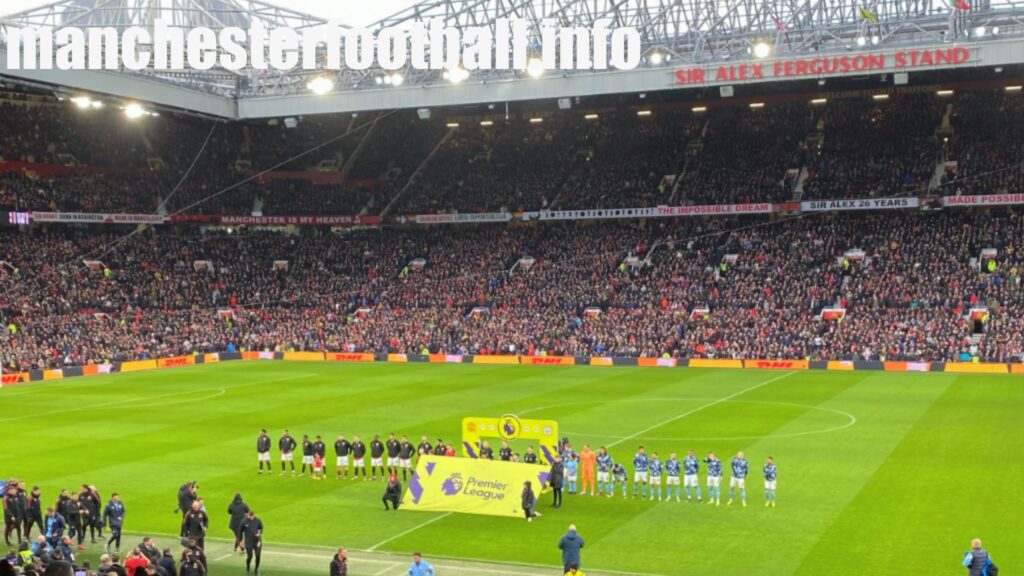 After a first half which Manchester United looked the more effective despite City dominating the possession, the Blues scored with their first shot on target in the game through Jack Grealish after an hour.
Ederson had earlier kept City in the game with a first half save from Rashford but the game didn't go into overdrive until the first goal went in and the shackles came off the Reds.
With 12 minutes to go Bruno Fernandes scored after Casemiro's ball in to Marcus Rashford looked offside but the England man left it to the Portuguese to finish.
And four minutes later Alejandro Garnacho was allowed two goes at finding Rashford with a square pass from the left and the England man made no mistake to earn a famous victory for the in-form Reds who are now just a point behind their rivals in third place and firmly in the title race after a ninth straight win.
Tactical Analysis – Manchester United 2, Manchester City 1
Erik Ten Hag was unsentimental as he addressed potential flaws that might have been exploited by Manchester City.
Luke Shaw was selected at left sided centre back in response to the height of Erling Haaland while Fred was picked in midfield alongside international team mate Casemiro to counter the potential of runners from City's midfield.
Christian Eriksen, who has played a lot recently, was pushed up higher up the pitch to get closer to goal while Bruno Fernandes replaced Antony on the right flank to pose more dynamic problems to City's left flank where the young Brazilian might have been more one dimensional.
Of the side that started against Charlton Athletic on Tuesday only Tyrell Malacia and Fred retained their places in the side as Ten Hag made nine changes.
Diogo Dalot was injured while Donny van De Beek was ruled out for the rest of the season with a serious knee injury.
Manchester City had a day's less rest following their defeat at Southampton and only three players stayed in the side after their humbling at St Mary's – Phil Foden, Kyle Walker, and Joao Cancelo – as Kevin De Bruyne and Riyad Mahrez returned to the starting line-up.
John Stones was ruled as not fit enough to play after picking up an injury recently as City looked to revert to a more tried and tested line-up with Cancelo as an inverted full back in midfield with Kyle Walker looking after the in-form Marcus Rashford on their right flank.
Bernardo Silva in midfield was there to help Rodri plug the gaps and help look after international team mate Bruno Fernandes when Cancelo was away from his left back role.
Why wasn't Wout Weghorst available for the Manchester derby?
Wout Weghorst completed his signing for Manchester United on loan from Burnley yesterday after paying Turkish side Besiktas a fee to release him from his existing loan deal with the Clarets but was registered too late for him to participate today.
PLAYER RATINGS – Manchester United 2, Manchester City 1
Manchester United
David De Gea: 6. Precious little to do early on. Not much other than Jack Grealish goal.
Aaron Wan-Bissaka: 6. Not much can down his side but had an eye on Phil Foden. Could afford to go forward.
Raphael Varane: 6. Mopped up loose stuff easily on his side. Couldn't get the final touch on Luke Shaw's free kick but was offside anyway.
Luke Shaw: 6. Looked after Erling Haaland. Great free kick deserved converting but Raphael Varane was offside and off target.
Tyrell Malacia: 6. Caught up in a challenge with Kyle Walker and went over. Stopped a great pass from De Bruyne from reaching Riyad Mahrez,.
Casemiro: 7. Showed his passing range – setting up the equaliser – and helped out in defence too, snuffing out most opportunities as City tried to get the ball to Erling Haaland.
Fred: 7. Detailed to look after Kevin De Bruyne and denied him several chances. Blocked Erling Haaland's first shot. Released Christian Eriksen for a great United move.
Bruno Fernandes: 7. Slid the ball beyond the far post after breaking free. Constant danger on the right flank and closed down intelligently – a team player while executing the press. Tried the unexpected to rescue an overhit Rashford switch but came into his own after United threw everything at City – scored the equaliser and delivered a captain's performance.
Christian Eriksen: 6. Pressed high and was in a good position to try and put balls in for the forwards and run beyond them. Set up a great chance for Marcus Rashford. Subbed off after getting booked.
Marcus Rashford: 7. No change out of Kyle Walker. Tried his luck on the other flank. Thwarted by Ederson when he got a run on goal from the left. Was struggling before going down just before half time after getting nothing from Manuel Akanji but recovered and played through the pain in the second half to score the winner having cleverly left an offside through ball from Casemiro to allow Bruno Fernandes to equalise first. 
Anthony Martial: 6. Released early on but couldn't get the ball to Christian Eriksen. Header didn't challenge Ederson. Subbed off at half time with injury concern.
Antony (on for Anthony Martial, 46): 6. Played at centre forward. Caught offside, somewhat ineffectual.
Alejandro Garnacho (on for Christian Eriksen, 72): 7. Injecting some excitement into the game. He was clean through soon after he came on but it needed Kyle Walker and Manuel Akanji to deny him a shot on goal but he provided the penetration that brought the equaliser.
Harry Maguire (on for Marcus Rashford, 90+3): No time to mark
Scott McTominay (on for Casemiro, 90+3): No time to mark
Lisandro Martinez (on for Tyrell Malacia, 90+3): No time to mark
Manchester City – Manchester United 2, Manchester City 1
Ederson: 6. Had to be alert as United looked to be creating more than City early on – big save from Marcus Rashford, distracted by the offside Rashford later.
Kyle Walker: 6. Looking for the cute Eriksen through balls as well as watching Marcus Rashford. Dealt with Tyrell Malacia too.
Manuel Akanji: 7. Passing let him down a bit. Cleared a shot by Bruno Fernandes coming down the left and also handled Marcus Rashford when he switched to his side. Tidied up in defence well, making crucial interceptions and blocks.
Nathan Ake: 6. Had to watch out for runs by Christian Eriksen and after half time Antony. Failed to close down Alejandro Garnacho for the equaliser after his initial cross was blocked by Manuel Akanji.
Joao Cancelo: 6. Started at left back, and stayed on the left flank, slightly sloppy long passing. Pinned back when Marcus Rashford came over to his side.
Kevin De Bruyne: 6. Hampered by Fred shadowing him and giving him less time on the ball. Through balls less effective but got the ball to Phil Foden in the first half. Escaped both Fred and Casemiro in the second half and put the cross in that that converted by Jack Grealish.
Rodri: 6. Tidy in midfield but lost composure when attacking.
Bernardo Silva: 6. Buzzed around in midfield and swept up behind Rodri, even dropping into defence, but also pushed up while pressing.
Riyad Mahrez: 6. Came off his flank to try and tempt Tyrell Malacia out of position. Some sloppiness gave away a chance for United.
Phil Foden: 6. Somewhat isolated again down the left flank with Joao Cancelo tied up behind him. A cross by De Bruyne was too high for him towards the end of the first half. No penalty when he went over in the area and was taken off soon after, limping after the game.
Erling Haaland: 6. Rare shot blocked by Fred after United failed to clear. Was well isolated by United as his team mates failed to find him.
Jack Grealish (on for Phil Foden, 57): 7. On for the free kicks but also headed City into the lead. Couldn't help City get something out of the game but not for lack of trying.
GOALS – Manchester United 2, Manchester City 1
Man Utd 0, Man City 1: 60. Jack Grealish rose up and headed the ball home from 5 yards out after Kevin De Bruyne had evaded both Fred and Casemiro to chip the ball back into the six yard box from the touchline.
Man Utd 1, Man City 1: 78. Bruno Fernandes nipped in to score the equaliser controversially after it looked like Marcus Rashford was going to be miles offside when running onto a through ball and is flagged offside. But he didn't touch it and City's defence didn't see the Portuguese running through to strike – the offside was overturned.
Man Utd 2, Man City 1: 82. Marcus Rashford swept in the winner after Manuel Akanji blocked Alejandro Garnacho's first cross but the Argentine was allowed a second go and found the England man who made no mistake.
MATCH STATS – Manchester United 2, Manchester City 1
Man Utd: De Gea, Wan-Bissaka, Varane, Shaw, Malacia (Lisandro Martinez 90+3), Casemiro (McTominay 90+3), Fred, Fernandes, Eriksen (Garnacho 72), Rashford (Maguire 90+3), Martial (Antony 46)
Man Utd Subs not used: Heaton, Lindelof, Elanga, Mainoo
Booking: Eriksen 64 (foul on Jack Grealish); Fred 88 (foul on Jack Grealish), Casemiro 89 (foul)
Goals: Fernandes 78; Rashford 82
Man City: Ederson, Walker, Akanji, Ake, Cancelo, De Bruyne, Rodri, Bernardo Silva, Mahrez, Foden (Grealish 57), Haaland
Man City Subs not used: Ortega, Phillips, Gundogan, Laporte, Alvarez, Gomez, Palmer, Lewis
Goal: Grealish 60
Referee: Stuart Attwell
Attendance: 75,546