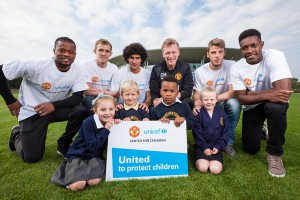 Manchester United today renewed their partnership with UNICEF, the world's leading children's organisation, committing £1 million to fund vital child protection work and calling on supporters to unite to protect children.  
The United for UNICEF partnership has been hugely successful over the last 13 years, raising £3 million and helping more than 3.4 million vulnerable children worldwide. It is the longest running partnership of its kind between a sporting organisation and a global charity. 
Of this new £1 million commitment, £500,000 will be used to fund UNICEF's essential work to protect children in Vietnam. There are currently an estimated 23.6 million children living in Vietnam and more than 20 per cent of them are vulnerable to abuse, exploitation and neglect. The funding will be used to support children who are orphans, those who have been involved in child labour or trafficking, and others who live on the streets or suffer from drug abuse. In addition, the partnership will:
Train 160 social welfare     managers to identify children at risk

Train 400 community based     social workers on child protection

Support the Vietnamese     government in developing a national child protection system

Use activities including     football to engage with marginalised children and ensure they are getting     the support they need.
Manchester United manager David Moyes said: "Manchester United is very proud of United for UNICEF and the many young lives it has helped in the last 13 years. The team and I are therefore delighted to support the renewal of this incredible partnership and highlight UNICEF's vital child protection work.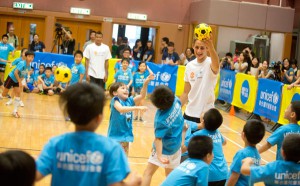 "In my short time as Manchester United manager I have already travelled halfway around the world and witnessed first-hand the Club's unbelievable fan base, and together I am confident we will help United for UNICEF raise another £1 million."
David Bull, Executive Director of UNICEF UK, said: "We are immensely proud of our long-standing partnership with Manchester United and the continued commitment from the club and its fans to improving the lives of vulnerable children across the world.
"UNICEF relies entirely on voluntary donations and partnerships like United for UNICEF, and we are delighted that Manchester United has renewed this partnership for a further three years, helping us make a lasting difference to the lives of many more children."
Manchester United will raise £1 million over the next three years through a variety of activities and with the support of fans from around the world and players. The first fundraising event will be the annual star-studded United for UNICEF gala dinner which takes place on Thursday 21st November. Tickets can be bought from special.events@manutd