SEKO FOFANA RACIAL ABUSE CLAIM PROMPTS CITY EDS WALKOUT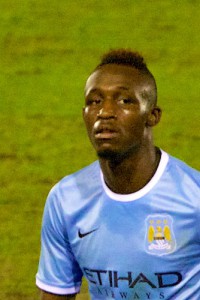 Manchester City's Elite Development Squad team, currently on tour in Croatia, walked off the pitch during a game against HNK Rijeka after an alleged racial incident against City player Seko Fofana.
Reports suggest that French midfielder Fofana was shown a straight red card after reacting to an opposition player in the first half.
City's EDS team were trailing at the time.
The game was being played in Novigrad, Croatia, when the management staff decided to withdraw the City team from the field of play and to cancel the game.
A statement on the City website confirmed that there had been an allegation of an incident of racial abuse during the latter stages of the first half of the game.
It went on to state that Club representatives in Croatia and Manchester were liaising with officials, organisers and the Croatian Football Association to pursue the matter further.
If proven, the incident is not the first example of racial abuse against Manchester City players in recent months.
CSKA Moscow was punished with a partial closure of their stadium after City midfielder Yaya Toure was racially abused during a Champions League game there in October 2013.
At the time Toure was reportedly furious after being targeted with racial abuse by a section of the home crowd in Moscow and City submitted a formal written complaint to UEFA about the event at the Khimki Arena.
Andrew Cole's son Devante Cole was also racially abused by Atletico Madrid fans during a U19 game in March this year while former City striker Mario Balotelli also suffered abuse from Porto fans in 2012.
Both clubs were fined relatively paltry amounts – €10,000 for Atletico Madrid and €20,000 for Porto.
The EDS and U18 teams had been in Croatia since July 14, basing themselves in the coastal town of Novigrad, and the U18 team had played a game against NK Novigrad, winning 6-0, while the EDS team had played HNK Gorica, winning 4-0, without incident.
As the tour came to a close both teams were due to play their final games before flying home.
The U18 team beat FC Cukaricki 3-1 this morning before the later game with the EDS squad kicked off.