manchesterfootball.info's Tony Bugby continues his 'Ten Tier Challenge' which is to watch a match at every level from the Premier League down to North West Counties League, first division south where he kicked off the challenge. Here he is at the top of the pyramid for Manchester United's Premier League clash against Leeds United. Look out soon for an in-depth feature on each level.
MANCHESTER UNITED 5, LEEDS UNITED 1
Manchester United set down a marker after making a hugely impressive start to their Premier League campaign to the delight of a near capacity crowd at Old Trafford for the first time in more than 17 months.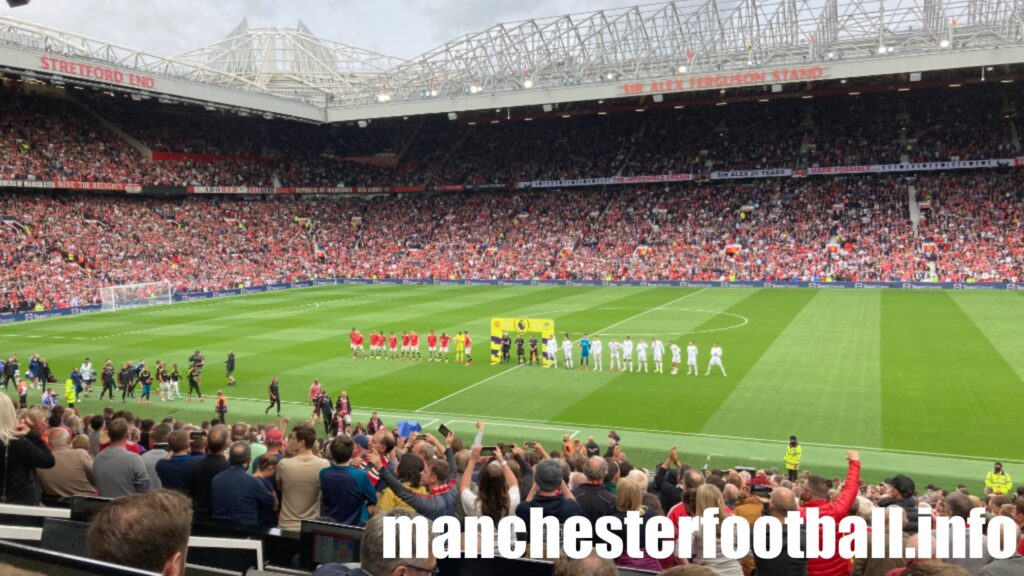 There was plenty for them to saviour, Bruno Fernandes' first hat-trick for the Reds as he left the field clutching the match ball as he became the first player to score an opening-day treble since Lou Macari in 1977-78.
Fernandes became only the 10th player to score a treble on the opening weekend of the season and claimed the first hat trick against Leeds since Andy Ritchie achieved the feat in 1979.
The impressive and influential Paul Pogba provided four assists and became only the seventh different player to achieve the feat in a Premier League match.
And he surpassed last season's efforts in one afternoon – three assists in 26 league games.
There was also an eye-catching display from striker Mason Greenwood as United imposed their superiority with four goals in a 16-minute spell in the second half.
Embed from Getty Images
Fernandes said: "It was a great performance by the team. Having the fans back gave them this joy and against a big rival like Leeds. Today was almost a perfect day, we conceded one goal but whatever we won and that is the moment important.
"I am really happy for all the fans, all the fans in the entire world of football. They have the chance to see their clubs and enjoy the games. It is important for society, they deserve this. They deserve some freedom because almost two years it has been tough for everyone.
"We have to do better and perform better all the time. Now this game is gone and from now we have to think game by game. The biggest contender for us for the title is [next opponent] Southampton because if we win against then we are one step closer to winning something and if we lose to them we are one step further.
"The joy is really good (for a hat-trick). I will call my wife and hear my kids saying 'the ball is coming home'. It is unbelievable, you cannot describe this feeling. For me the most important thing is to make my family proud of what I am doing."
The midfielder also paid tribute to Pogba's contribution, saying: "People talk about the quality of Paul, but his quality is not in discussion. We know what he can do and today he showed that. He's an important player for us. We know to expect these kind of performances from Paul."
Solskjaer said: "It creates and sets the mood when you see the fans driving to the stadium. You get the butterflies again. Suddenly it's a game that matters. We felt extra responsibility because it's been so long without them. They mean so much to us. To have that love from the fans is so important."
On United's performance, Solskjaer added: "I couldn't have asked for more. You're always a bit worried before the first game – fitness-wise have we done enough? Tactics-wise? The sessions have been geared just to this game. It's been a fantastic day.
"Of course when Bruno scores three and Paul gets four assists, the headlines are going to be about them. But for me it's about the team. Those two can produce the big moments because of what's around them. Mason [Greenwood]'s development has been great. He's become a man compared to two years ago."
On his squad, Solskjaer added: "I'm very happy. We waited for Raphael [Varane] to get everything sorted. That meant a lot to the fans, and Jadon [Sancho] will get better and better. We've got a few more coming back, so good times."
There was a buzz just before kick off when United paraded their latest signing, France World Cup winner Varane, on the pitch before a crowd of 72,732.
Central defender Varane, captured from Real Madrid, said: "Manchester United is one of the most iconic clubs in world football and the chance to come here and play in the Premier League is something I couldn't turn down."
United had their other major summer signing Jadon Sancho on the bench alongside Tom Heaton following his return to Old Trafford.
In the injury-enforced absence of Marcus Rashford, Greenwood was preferred to Anthony Martial to lead the line.
Leeds had England Euro hero Kalvin Phillips on the bench.
Greenwood was instrumental in United's first three key moves of the match.
He forced two saves from Ilan Meslier, the second after Luke Ayling blocked his effort which threatened to loop over the head of the goalkeeper.
Greenwood then released Paul Pogba who fired wide as he was closed down by Meslier.
Mateusz Klich forced a decent save from David De Gea and Rodrigo flashed a header wide from Raphinha's free kick as Leeds finally got a toe hold in the game.
But it was United who took the lead after half an hour through Fernandes.
Meslier's clearance was picked up by Scott McTominay in midfield and Pogba released Fernandes whose shot eluded Meslier who got to the ball but could not keep it out.
Luke Shaw then sent a shot which rippled the side netting and Daniel James went close as United looked to double their lead.
There was an electrifying start to the second half.
Leeds equalised in the 48th minute when Ayling ran on to a square pass from Stuart Dallas, advanced forward and found the top corner with a 25-yard drive.
United regained their lead within four minutes when Greenwood was rewarded for his considerable efforts.
Pogba provided the assist to release Greenwood who cut inside Pascal Struijk and from the left of the box fired low into the far corner.
United made it 3-1 two minutes later when Pogba provided his third assist of the match to set up Fernandes' second goal.
The Portuguese cut inside from the left and, though Ayling cleared the ball, referee Paul Tierney signalled it had crossed the line.
United made it three goals in six minutes when Fernandes completed his hat trick.
He raced clear on to Victor Lindelof's long forward ball before smashing a shot into the roof of the net.
It got even better when United made it 5-1 in the 68th minute when Pogba provided his fourth assist, cutting the ball back from the left for Fred to fire low past Meslier.
United made their first change with 21 minutes left when Scott McTominay made way for Nemanja Matic.
And that was soon followed by two more as Sancho made his bow and Martial was also introduced as Daniel James and Pogba were taken off.