ASHTON UNITED 1, HYDE UNITED 0
Manager Michael Clegg praised the battling qualities of his players as Ashton United lifted the Manchester Premier Cup for the first time since 2003.
"It was about heart, desire and luck, and we had all three," Clegg explained after they battled to beat Tameside neighbours Hyde United who nine days earlier had beaten them 3-0 in the league.
This time it was the Robins who were chirping as a quickfire goal after only 13 seconds from Ben Hardcastle settled a pulsating match which was played at FC United's Broadhurst Park home in front of a 963 crowd.
Ashton lived dangerously as Hyde hit the frame of their goal three times and had a goal from captain Tom Pratt disallowed for the tightest of offside calls.
Clegg continued: "This game summed up our season as we had to dig in, but the lads backed each other, and we have a great spirit in the dressing room.
"We rolled the dice with a few of our injured players which didn't work and had to make two early substitutions."
Hyde manager Nick Spooner's only criticism of his team was the lack of a cutting edge.
"We need to start being more ruthless as the performance was good with only the result the disappointing," he said.
Spooner was pleased with the reaction to the 4-0 home defeat to Bamber Bridge two days earlier, though not being caught cold from the kick off.
"We have a young squad, and it was probably down to nerves early on. Once we got over the shock, we grew in confidence and played some lovely football."
Ashton made the breakthrough straight from kick off – estimates were between seven and 15 seconds – but one reliable source clocked it at 13.
Captain Michael Brewster, returning from injury, threaded a fine pass to release Hardcastle who darted between Hyde left and centre backs to fire home.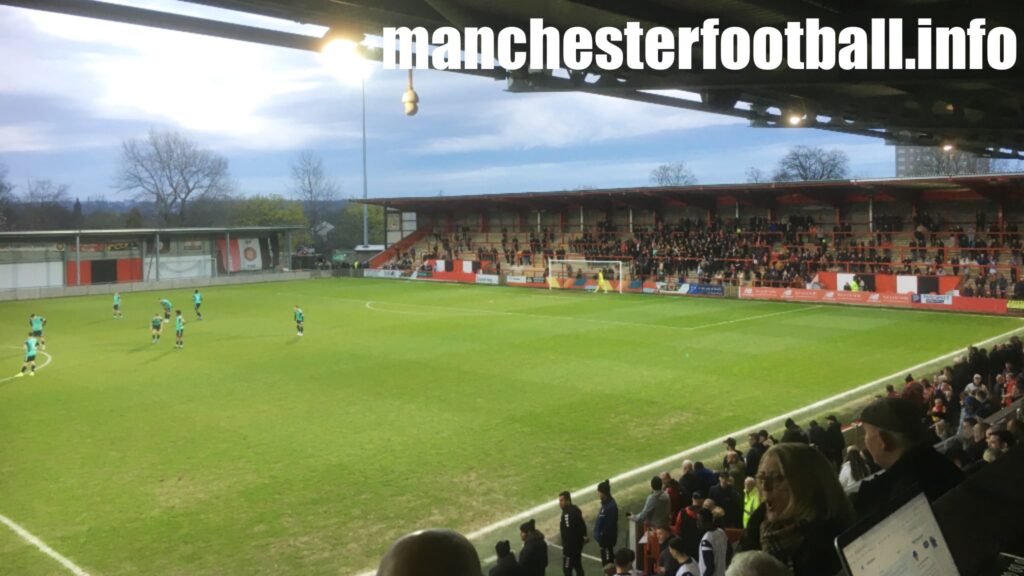 Hyde, who last won the competition in 2006, were at sixes and sevens early one and could have fallen further behind.
They gradually eased their way into the game, assisted by Ashton losing central midfielders Brewster and Sam Sheridan in the opening 20 minutes through injury.
Lewis Earl headed into the side netting, Jordan Fagbola's header was looping in until goalkeeper Greg Hartley miraculously clawed the ball to safety, Tayt Trusty fired agonisingly wide and Sam Peplow crashed a shot against the crossbar.
There was a stoppage of more than five minutes soon after the restart when Hyde goalkeeper Joe Green needed extensive treatment by physio Lucy Graves for a deep gash to the lower part of his right leg with blood clearly visible. He was caught by Jordan Simpson, who was booked, as he closed down the keeper.
With no back-up on the bench, Green soldiered on and was reluctant to kick the ball. Later he had to visit A&E to have the cut stitched.
Ashton had their best spell of the match as Green pulled off a decent save to deny Cole Lonsdale, Florian Yonsian had a penalty shout rejected after a challenge by Harry Ditchfield and the same played struck the crossbar after cutting in from the left.
Pratt shot inches wide and an effort from substitute Jack Sherratt was deflected on to the upright from a tight angle as Hyde came back strongly in the latter stages.
In the nine minutes of added time, which extended to more than 11, Hyde had chances to equalise and force a penalty shootout.
Pratt raced clear on to a long ball over the Ashton defence to score, but his delight was quickly extinguished by the flag of the assistant referee for offside.
Then substitute Jonah Mitchell's glanced header struck the inside of the upright and rebounded into the arms of Hartley, a moment when Hyde fans realised it was not going to be their day.
The only disappointment came after the final whistle when rival fans clashed and players from both sides intervened to prevent it spiralling out of control.
Ashton United: Hartley, Spratt, Lonsdale, Sheridan (Ntula 20, Baird, 90), Coates, Coker, Hardcastle, Brewster (Simpson 10), Yonsian, Redshaw, Tomsett. Subs (not used): Hunt, Bentham.
Hyde United: Green, Ditchfield, Summers, Spooner, Fagbola, Roscoe, Peplow, Trusty (Mitchell 78), Brown (Sherratt 78), Earl, T Pratt. Subs (not used): Uche, Benns, Fogerty.