Manchester City Women 3, Sunderland Ladies 0
Goals by Julie Blakstad, Hayley Raso, and Khadija Shaw against Sunderland saw Manchester City Women notch up a seventh consecutive win in all competitions.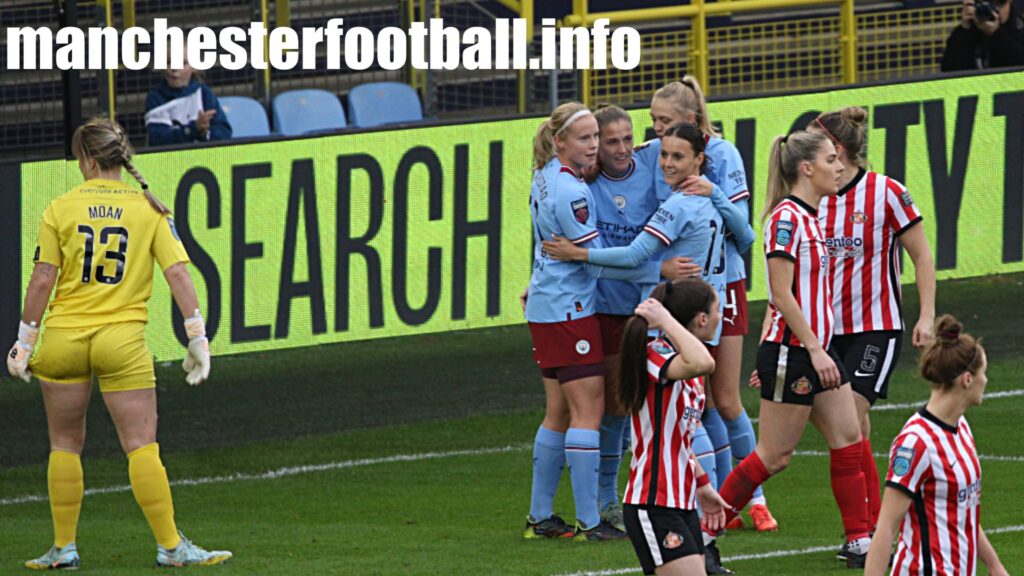 City went with a very strong side against Sunderland in their FA Women's Continental Tyres League Cup fixture and were vindicated when they came up against a side who were well up for the fight despite their modest position in the Women's Championship table.
But mistakes at the back became costly for the visitors as they became indebted to Claudia Moan and some wayward City finishing as the winning scoreline should have been much greater.
Julie Blakstad had a tap in to an unguarded net after 8 minutes after Sunderland failed to clear a City corner, Mary Fowler put the ball back into the danger zone and Filippa Angeldahl unselfishly squared it to her.
The Sunderland keeper Claudia Moan gave the ball straight to Khadija soon afterwards but the Jamaica striker hit the ball wide while Blakstad rolled a shot wide of the back post after being slid through by Angledahl.
It was all very one sided for City who faced their first Sunderland corner after 27 minutes and Ellie Roebuck at least had something to do when she punched the ball away – the Black Cats had their first shot after the half hour mark with a ball headed over the bar from their second corner.
Leila Ouahabi forced a save out of Moan after Blakstad squared the ball to her while Hayley Raso ran onto a through ball by Esme Morgan but her pass into the box was too far ahead of the runners who were trying to meet it.
Morgan also headed wide when a fast cross from Blakstad found her in space just before half time and Yui Hasegawa – a dynamo in midfield – blazed over when a loose ball reached her outside the box.
Hayley Raso scored City's second soon after the restart her solo run and shot into the bottom corner extending City's lead.
And after 59 minutes Shaw make it 3-0 after being sent clear by Steph Houghton and she easily beat Moan.
With the game seemingly safe, Gareth Taylor opted to make a triple change – Demi Stokes, Ruby Mace, and Laid Aleixandri replaced Esme Morgan, Leila Ouahabi, and Yui Hasegawa.
City laid siege to the Sunderland goal – Shaw sent a rising shot wide which would have make it 4-0 soon afterwards and Raso had a shot blocked and Blakstad sent the rebound over the bar after a series of close efforts.
Houghton and Shaw got well deserved rests towards the end when Alanna Kennedy and Lois Marley-Paraskevas replaced them.
And there were still chances for City to extend their lead as Sunderland ran out of steam after their all action start against the home side with Blakstad missing a chance to back heel a memorable fourth for City at the end of a swift break.
GOALS – Manchester City Women 3, Sunderland Ladies 0
Man City Women 1, Sunderland Ladies 0: 8. Julie Blakstad had a tap in to an unguarded net after Filippa Angeldahl squared the ball to her after Sunderland failed to defend a corner.
Man City Women 2, Sunderland Ladies 0: 48. Hayley Raso doubled City's lead after being put clean through and slotting into the bottom corner.
Man City Women 3, Sunderland Ladies 0: 59. Khadija Shaw gave City a towering lead after she finished easily past Claudia Moan after Steph Houghton released her.
MATCH STATS – Manchester City Women 3, Sunderland Ladies 0
Man City Women: Roebuck, Morgan (Stokes 63), Houghton (C) (Kennedy 77), Greenwood, Ouahabi (Aleixandri 63), Angeldahl, Hasegawa (Mace 63), Fowler, Raso, Blakstad, Shaw (Marley-Paraskevas 77)
Man City Women Subs not used: Keating, Hutchings, Prior, Dahou
Goals: Blakstad 8; Raso 48; Shaw 59
Sunderland Ladies: Moan, Herron, McCatty, Griffiths, Gears, Brown, McInnes (Kelly 46), Beer (Brown 46), Dodds (Ede 68), Manders (Holmes 68), Westrup (C)
Sunderland Ladies Subs not used: Jardine, Scarr
Referee: Stacey Fullicks
Attendance: 1,672