MAN CITY 2, MAN UTD 1
Ilkay Gundogan was Manchester City's Captain Fantastic as they defeated their Mancunian neighbours to lift the Emirates FA Cup and complete the domestic double.
The German, such a key and influential player for City, struck both goals, the first after only 12 seconds and the quickest-ever final goal, to help Pep Guardiola's side remain on course to emulate United's historic treble of 1999.
City now head to Istanbul for next Saturday's final of the Champions League against Inter Milan when history beckons.
Irrespective if what happens in Turkey, this City's side is assured of greatness as the club became only the third behind United and Arsenal to win the domestic double more than once.
City dominated the final but United were handed a lifeline when Bruno Fernandes' penalty drew the Reds level after a torrid opening half hour.
It gave the Reds belief they may cause an upset only for Gundogan to shatter it with his and City's second goal.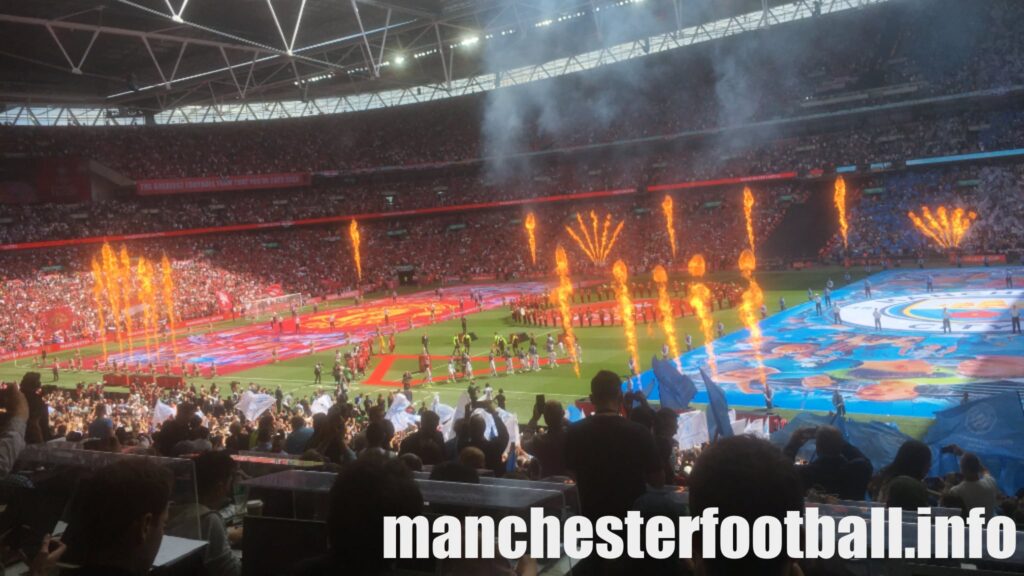 Gundogan, the clear choice as player of the match said: "To win a final is always special. Every trophy is special. This group deserves it. We played really well, second half was amazing and we deserved to lift another trophy.
"Obviously we know how we want to play the kick off and we aim to do that, to go long for Erling (Haaland) and try to get a second ball. It just placed amazingly for me, and I just had to hit it. Obviously it was a quite good strike."
Gundogan also spoke about his future as he has been linked with a summer move away from the Etihad.
"I don't need these kind of days to feel appreciated and feel special in this club. I know that and that is why I have been here seven years. Nothing is decided yet, we will see what will happen," he explained.
Guardiola described City as bring the better side, adding: "We can now talk about the treble. Of course, we still have to win the Champions League. It is two down, one to go, a position we will probably never be in again.
"We have had incredible seasons winning the Premier League, FA Cup and Carabao Cup, but have to win the Champions League.
"We have reached two finals and one semi-final in three years which has been incredible."
Of the game, Guardiola said: "We played a very good game and performed so well for our city and our fans.
"A final against United for many reasons is difficult. They follow man to man so tight and we didn't expect them to defend so narrow. We found more spaces in the second half.
"Tomorrow and the next day they can have off. We've then got three or four sessions to train for Inter Milan. We'll travel on Thursday morning after training.
"It was so important for us today. To win the FA Cup is so nice.
Embed from Getty Images
"I'm a Barcelona fan but I will love this club for the rest of my life. I know today we gave our fans a good gift to enjoy against our neighbours."
Ten Hag did not think there was a lot between the teams describing City as probably the best team in the world, saying: "We are broken, disappointed of course, but I said I am proud of my team. We did very well, we conceded two soft goals, but we were in the game. There was a great spirit and very good organisation.
"They were tough goals, they were so soft and avoidable. When you play against City and you don't concede almost nothing from open play it is a big credit for the team but if you concede goals like this it is disappointing.
"This team showed resilience, character and personality. We know we have a way to go but this will make us better. It was a test for us, we didn't succeed but we can take a lot of positives into next season."
Ten Hag reflected on a successful season: "Before today we both had 42 wins this season, though City have one more than us.
"We have played a fantastic season and more than we expected to qualify for the Champions League, win a trophy and reach another final."
City, as expected, started Stefan Ortega, who has been their FA Cup keeper, in goal instead of first-choice Ederson.
Kevin De Bruyne and Jack Grealish were back from injury and, of course, the main man Haaland started up front.
United were without Anton, who only had a small chance of playing because of injury.
With Anthony Martial out, Marcus Rashford was centre forward with Jadon Sancho and Bruno Fernandes alongside him.
City made a dream start taking the lead after only 12 seconds with the quickest-ever goal in a final beating Louis Saha's 25 seconds for Everton in 2009,
The ball was played back from kick off to Ortega who went long with De Bruyne helping it on to Gundogan who found the top corner with a first-time right-foot volley from the edge of the box.
It was his 10th of the season, and he has had a canny knack of hitting stunning strikes.
Not long after City fans, at the opposite side of the ground, though their side had doubled its advantage after Rodri flashed a header into the side netting from De Bruyne's free kick.
United, completely outplayed for the opening half hour, were handed an unexpected route back into the back.
They were awarded a penalty following a VAR check with referee Paul Tierney sent to the pitchside monitor to rule Jack Grealish handled after an aerial challenge with Aaron Wan Bissaka.
Fernandes stepped forward to send Ortega the wrong way following his slow, shuffling run. It was his 14th goal of the season.
The mood suddenly changed as United's confidence soared and they had a chance to take the lead but Raphael Varane fired over after a corner was flicked into his path seven yards out.
United regained the lead in the 51st minute when Gundogan struck again with City's 150th goal of the season.
De Bruyne was fouled by Fred on the touchline and the Belgium's free kick cut back to the edge of the box was met by Gundogan whose low left-foot shot crept into the bottom corner through a sea of bodies, De Gea got a strong hand to the effort but probably saw the effort late.
It might have been an even more uphill battle had De Gea not done well to keep out De Bruyne's effort with his legs.
United needed more of a cutting edge and shortly after the hour Christian Eriksen made way for Alejandro Garnacho.
Rashford and Garnacho both had decent goal attempts, the latter bending an effort narrowly wide.
There was a let off for United when Haaland was brilliantly denied by De Gea and Gundogan, following up, thought he had completed his hat-trick only to be flagged for what was a clear offside.
City's first change with 15 minutes left saw De Bruyne make way for Phil Foden and United soon made another as Sancho was sacrificed for Wout Weghorst.
Ten Hag then went for broke substituting central defender Victor Lindelof as Scott McTominay entered the fray for the final seven minutes.
Guardiola, not wanting to take any risks, brought on defender Nathan Ake in the 89th minute as Grealish's game ended early.
There was an almighty scare for City in the second of four added minutes as Varane's effort hit the crossbar and McTominay's follow-up nestled on the roof of the net.
City's fourth change in the dying seconds saw the injured Kyle Walker replaced by Aymeric Laporte as they saw out the game with no further anxious moments to endure.
.