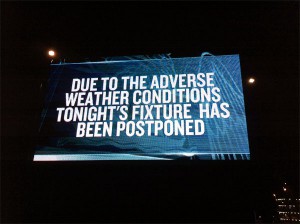 Manchester City have called off the Barclays Premier League game against Sunderland at the Etihad tonight following advice from Greater Manchester Police.
Gale force winds and driving rain around the Manchester area have made travel hazardous and this has contributed to the decision to call off the game on safety grounds.
Reports of structural damage at the Etihad combined with escalating travel difficulties also contributed to the decision to cancel the game being made at 7pm after half hourly checks since 5pm.
A statement on the Manchester City website said:
"Manchester City can confirm that this evening's fixture versus Sunderland has been postponed due to exceptional and escalating weather conditions.
"The safety of those in, around and travelling to the stadium complex cannot be guaranteed. This decision has been made by the Safety Officer and Greater Manchester Police.
"Both managers and the match officials understand and support this decision. Everton have also cancelled tonight's game with Crystal Palace due to the weather conditions."
Manuel Pellegrini said: "The safety of the City and Sunderland supporters is the most important thing and we understand and fully support the reasons behind the game being called off.
"We were ready to play this game but the well-being of the people coming to the Etihad is paramount. We hope everybody gets home safely, both in Manchester and Sunderland."